PLEASE NOTE
The Production Logger configuration has changed. We are in the process of updating this page and our pricing and specification pages to reflect the new upgrades. Most Production Loggers are built to order, so please call +1-507-454-2727 to discuss your specific needs
Introduction:
The Production Logger is an integrated data logging system for measuring grid tied renewable energy system input and output. An anemometer or solar radiation sensor alone can measure your available input resource. A kilowatt meter can measure system output. But only when you combine your available resource and your actual produced energy do you get the whole picture.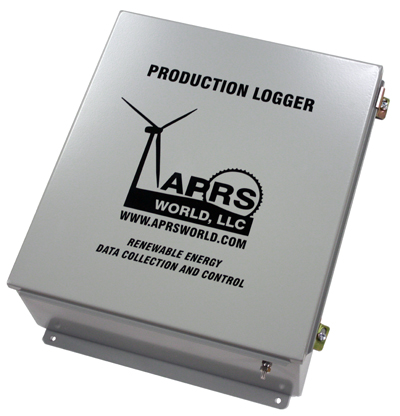 Why?
Live or logged data is invaluable once you have it. APRS World's Production Logger makes data easy to collect.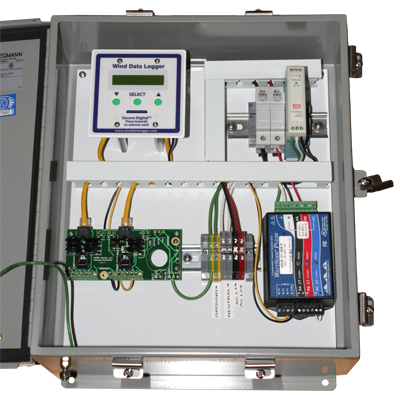 For Owners
Make sure your renewable energy system is working
Monitor home or business energy consumption
Know exactly how much energy you are making and when
See when it is time to clean your solar panels or call for maintenance on your wind system
For Installers
Find out what is happening at a site before you drive there
Offer an integrated data collection system so you stand apart from your competition
For Manufacturers
Let your customers provide you with real world data
APRS World can brand the Production Logger with your information. Sell a complete system!
For Educators
Give your students something to learn from, not just something to look at
Data can be used for research, in curriculum, and for science projects
back to top

Add the optional Internet module and you can view your system performance with just a web browser. Just plug in an Ethernet cable and your data will automatically appear on our website: data.aprsworld.com. Standard web displays are available or we can customize your website to meet your exact needs.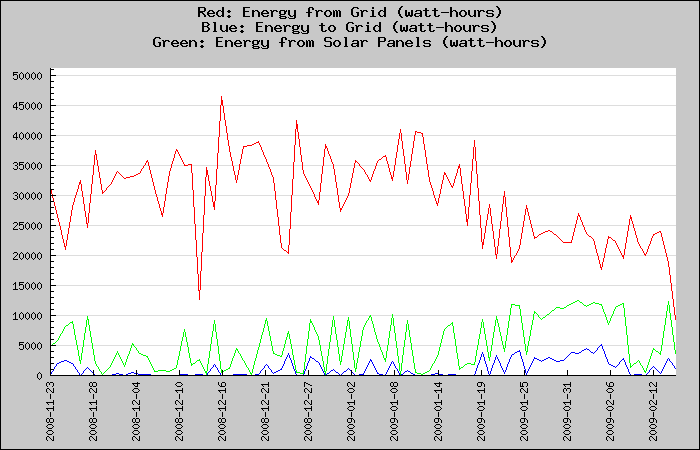 Example data from a residence with a grid tied 2kW PV array in Winona, Minnesota, USA.
View live data at:
http://data.aprsworld.com/data/dailyCounter.php?station_id=K0NYWATT
back to top

Flexibility
The Production Logger is flexible. It is based around our widely deployed Wind Data Logger. The Wind Data Logger has three counter inputs for anemometers and energy production meter (integrated with the Production Logger) and seven analog inputs for other sensors. The Wind Data Logger logs data to a Secure Digital™ or sends live measurements to the web with the optional Internet module.
APRS World offers all kinds of optional sensors for the Production Logger. We have weather sensors galore -- wind, temperature, relative humidity, barometric pressure, light intensity, rain, and more. We also offer a multitude of current, voltage, and frequency sensors for more advanced performance monitoring applications.
The energy meter integrated with the Production Logger is available for voltages ranging from 120 to 600 VAC. You select the current transformers you need ranging from 5 to 4000 amps. There is a combination to meet your needs!
Easy to Install
The Production Logger is easy to install. All of the components are housed in a custom sheet metal enclosure. The enclosure mounts to a wall or panel with three #10 screws. Electrical connections are made to terminal blocks. AC line voltage connections are separated from low voltage connections by a shatterproof polycarbonate panel. This ensures that no dangerous line voltages can be encountered during connection of the low voltage sensors.
Just how simple is the Production Logger installation? For a typical 240 volt output renewable energy system there are just ten wires to connect. Status LEDs clearly show you that everything is working, or where a fault lays. An electrician can typically install the production logger in 1 to 2 hours.
Efficiency
The Production Logger is all about efficiency. It has the right parts, it is easy to install, easy to setup, and really easy to use. Not only is it time efficient for you, it is also energy efficient. The Production Logger sips power -- less than 5 watts average.
back to top