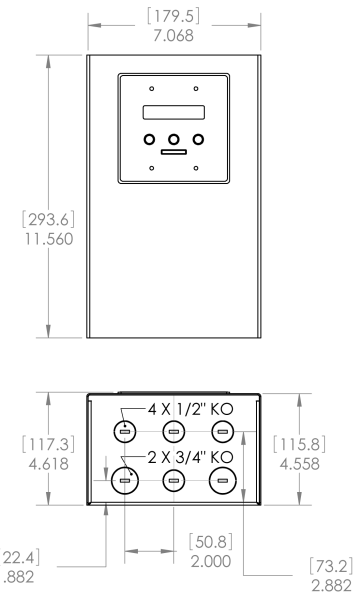 PLEASE NOTE
The Production Logger configuration has changed. We are in the process of updating this page and our pricing and main pages to reflect the new upgrades. To discuss your specific needs, please call +1-507-454-2727.
Specifications:
Wind Data Logger
See Wind Data Logger Specifications
Energy Measurement sub-system
Configurations
Single phase: 2-wire or 3-wire
Three phase: 3-wire or 4-wire
Electrical
Line powered
Operating voltage range: 15%, -20% of nominal
Power line frequency 50/60 Hz
Accuracy
Normal operation line voltage: 80% to 115% of nominal
Power factor: 1.0
Frequency: 48 to 61 Hz
Current: 5% to 100% of rated current
Accuracy: +-0.5% of reading
Environmental
Operating temperature: -30°C to +55°C (-22°F to 131°F)
Operating relative humidity: 5 to 90%
Mechanical
Dimensions: 180 wide x 294 tall x 117 mm deep (7.1 x 11.6 x 4.6 in)
Weight: TBD kg (TBD lbs)
Mounting screws: Three #10. Maximum 5.3 mm (0.21 in) shank. Maximum 11.1 mm (0.437 in) head.
Annotated View: