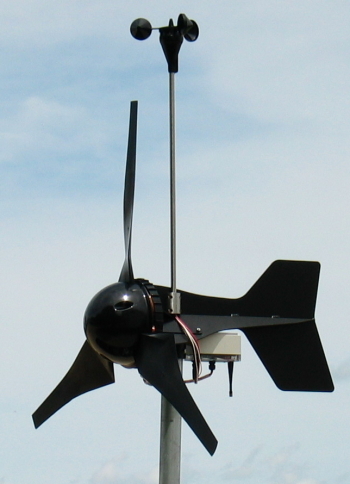 WrenDAQ3 flying on it's namesake -
- Chinook Turbine's Wren 200.
The WrenDAQ3 is a compact, turbine top data acquisition unit. It is designed to transmit critical performance data for small turbine developers and testers. The standard WrenDAQ3 uses a license free 2.4 GHz Zigbee (802.15.4) data modem to transfer data to your PC or directly to the Internet. Because the WrenDAQ3 is powered by the DC voltage from your turbine there are no additional cables to run; this allows adding data acquisition without adding additional slip rings for the signals.
By itself, it does not log any data. An always on Internet connection or a PC with wireless modem is required to log data. The WrenDAQ3 can be synchronized with our Wind Data Logger so that both sample at the same time.
Live data on the Internet!
One very neat feature of the WrenDAQ3 package is that real time data from the WrenDAQ3 can be made available on the Internet. To use this feature you must have an always on Internet connection at your test site. A small Zigbee to Ethernet gateway is installed that receives data from the WrenDAQ3 and sends it to our Internet service. You can see an archived example of this Internet data service in the frame to your right. As part of the setup fee we will configure your WrenDAQ3 web page to display the parameters you are interested in with the format that you need.
Example data from a WrenDAQ3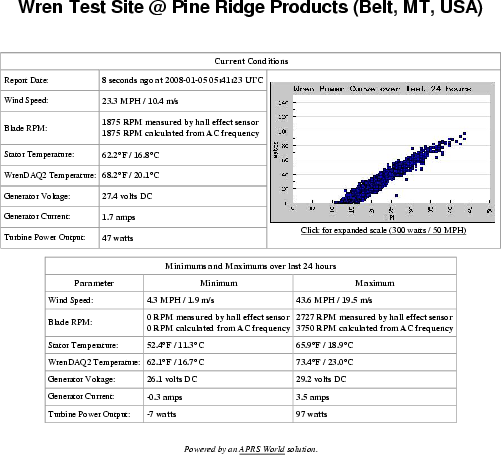 This is a screen shot of a web page. A
PDF version
is available. Note that this data represents a turbine in development and does not reflect the output of a normal production turbine.
The Standard WrenDAQ3 measures:
Input voltage: 0-40 volts DC
Current: -20 to 20 amps DC
(available as -30 to 30 amps DC)
AC frequency: 0 to 139 Hz
(used to determine generator RPM)
Wind speed: 0 to 100+ MPH from anemometer
RPM: 0 to 8000 RPM using external hall effect sensor
Barometric pressure
Internal and external temperature: -40°C to 60+°C
0 to 5 volt input
The Standard WrenDAQ3 features:
2.4 GHz Zigbee / xbee wireless modem for license free operation in North America.
Over voltage protection - safely shuts down if wind generator goes open circuit and produces high voltages.
Rugged polycarbonate enclosure designed for turbine top applications
back to top

---
The standard WrenDAQ3 package includes:
WrenDAQ3 main unit.
Wiring harness for DC, AC, and Ground connections. 6' long cable, non-terminated.
Wiring harness for anemometer, RPM, and temperature sensor. RPM and temperature sensor are wired in place 3' from the connector. 10' wire pigtails for the anemometer.
Xbee to Ethernet gateway OR an XBee USB wireless modem.
Internet Data Service
APRS World, LLC can host your WrenDAQ3 live and historical data. Data is sent from your always on, Internet connected, computer to our server. Our server is located in New York, New York, USA and is very fast and reliable. Your data site can have unlimited views and can be made available to the public or password protected. This service is $120 USD per year for commercial entities, or free for schools and non-commercial groups.
If you wish to run your own server, APRS World can supply you with the code and database schema we use for our system. This has the same setup fee as our hosted service, however there is no recurring fee from APRS World.
back to top

---
The WrenDAQ3 was developed to meet the needs Chinook Turbines / Pine Ridge Products. We are offering it as an off-the-shelf product or as the basis for a custom device device to meet your specifications. If you are inquiring about a custom version we need at least the following information:
Application Information.
Input information. For each channel we will need to know:

Sensor to be connected.
Voltages, currents, frequencies, and all electrical parameters.

Physical packaging constraints.
Power supply requirements.
Required quantity.

1 is okay.
Higher quantities have lower unit prices.

Required by date.
Any other applicable information. The more we know, the better.
back to top

---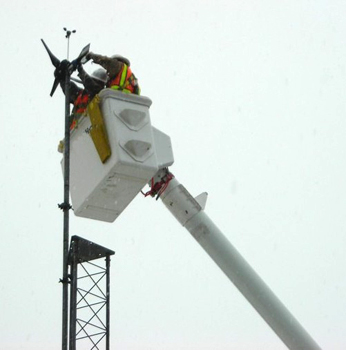 Cordova High School (Cordova, Alaska, USA) and Cordova Electric Cooperative install a Wren + WrenDAQ3.
APRS World is pleased to offer our WrenDAQ3 installed on a Chinook 200 Wind Turbine. This is the ultimate small wind teaching tool. A micro wind generator that is easy to understand and see operating. And fully instrumented so you can measure and observe exactly what it is doing.
The Chinook 200 is made by Chinook Turbines in Montana, USA. With a 1 meter rotor diameter, the Chinook 200 produces more than 200 watts in a 28 MPH (12.5 m/s) wind. The turbine is light weight (14 lbs / 6.5 kg) and mounts using standard 1.5" schedule 40 pipe. Low blade speed means that the turbine is quiet in operation. It is protected by a three year warranty. APRS World has been involved with the development and testing of the Chinook 200 and we are confident to say that this is the simplest and most reliable machine in its class. Full specifications are available at: http://www.chinookturbines.com/Chinook200Spec.pdf.
Chinook 200 Wind Turbine + WrenDAQ3

US Price: $2,500.00 USD
Please call us at +1-507-454-2727 to place an order.

Package includes:

Chinook 200 Wind Turbine
WrenDAQ3 Wireless Data Collection system

Anemometer and 2' mast
Barometer
Voltage, Current, and Frequency measurement
Temperature sensors for ambient temperature and generator temperature

Dump / charge controller
Wireless to Internet gateway module for sending data to the Internet
50 feet / 15 meters of wire
Stop switch with integrated circuit breakers

For basic applications, you will need to supply a tower or mast and a 12 volt deep cycle battery.


Part Number: APRS8510
Shipping Weight: 0.00 pounds
RoHS: compliant
Origin: USA

back to top