This system is perfect for wind data logging in remote areas without access to AC power. The 10 watt solar panel and sealed battery will run the data logger almost indefinitely. This is our most popular package.
The Solar Powered Wind Data Logger Package features:
Pelican 1300 Case
10 watt solar panel
7 amp/hour sealed AGM battery
Morningstar SunKeeper SK-6 solar charge controller
Lightning protection for all sensor channels and solar input
Self-resetting fuse
Stainless steel hardware
Mounting brackets for clamping to tower
Weatherproof cable feedthroughs
6' or longer solar panel cable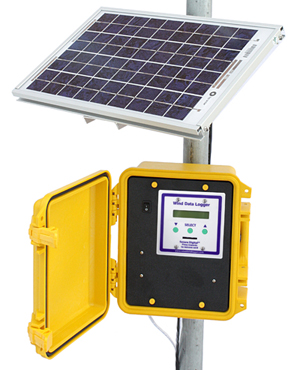 Click here for the Solar Powered Self-Contained Wind Data Logger Installation Guide
.
Now you can purchase these products directly through our sister website:

Wind Data Logger #40R package, solar powered, outdoor

US Price: $923.00 USD
Please call us at +1-507-454-2727 to place an order.

Or click here to order online from .

Package Includes

APRS6000 Wind Data Logger module
APRS6504 #40R anemometer, with boot
APRSC1000 Anemometer cable, 30.5 m (100 ft)
Stub mast, 0.3 m (11 in)
Self-contained enclosure
Mounting clips for attaching to tower
APRS6702 10 watt solar panel *
APRS6555 Solar panel side of pole mount
APRS6604 Secure Digital (SD™) card, 512 megabyte, industrial, -40°C to 85°C
APRS6603 USB SD™ card reader
APRS6559 Temperature sensor, 3 m (10 ft)
APRS6090 Printed manual
APRS6091 Printed installation guide for Solar Powered Wind Data Logger

Note: Solar Panel may vary. Pole for mounting not included.


Part Number: APRS6063
Shipping Weight: 26.00 pounds
RoHS: compliant
Origin: USA


Wind Data Logger package, solar powered, outdoor

US Price: $858.00 USD
Please call us at +1-507-454-2727 to place an order.

Package includes:

APRS6000 Wind Data Logger module
APRS6500 Anemometer, assembled and tested
Anemometer Cable, 7 m (25 ft)
Self-contained enclosure
APRS6702 10 watt Solar Panel *
APRS6555 Solar panel side of pole mount
Mounting clips for attaching to tower
APRS6604 Secure Digital (SD™) card, 512 megabyte, industrial, -40°C to 85°C
APRS6603 USB Secure Digital (SD) card reader
APRS6559 Temperature sensor, 3 m (10 ft)
APRS6090 Printed manual
APRS6091 Printed installation guide for Solar Powered Wind Data Logger

* Solar Panel may vary. Pole for mounting not included.


Part Number: APRS6060
Shipping Weight: 27.00 pounds
RoHS: compliant
Origin: USA

back to top

Solar powered Data Logger enclosure - NO LOGGER OR SENSORS INCLUDED

US Price: $493.00 USD
Please call us at +1-507-454-2727 to place an order.

This item is only for people that already have a Wind Data Logger and sensors. It consists of the enclosure, solar panel, wiring, battery, charge controller, and solar panel side of pole mount.


Part Number: APRS6700
Shipping Weight: 10.00 pounds
RoHS: compliant
Origin: USA


SPM10: Solar panel / sensor side of pole mount

US Price: $50.00 USD
Please call us at +1-507-454-2727 to place an order.

This durable 5052-H32 aluminum pole mount provides a mounting solution for the 10 watt panel. It employs corrosion-resistant aluminum and stainless steel hardware. Assembly and installation is easy and can usually be accomplished in less than 10 minutes. The mount can either be attached to cylindrical objects (masts, pipes, etc) using hose clamps or bolted to flat surfaces.

Solar Panel not included.

Compatible with the following sensor and combinations:

Solar panel, 10 watt (Suntech or BSP-10)
Solar Insolation with Solar Radiation Shield (for temperature and relative humidity sensor)
Rain Gauge with Solar Radiation Shield (for temperature and relative humidity sensor)


Part Number: APRS6555
Shipping Weight: 4.00 pounds
RoHS: compliant
Origin: USA


Pelican case lock

US Price: $12.00 USD
Please call us at +1-507-454-2727 to place an order.

Lock for securing Outdoor Data Logger enclosures (Pelican cases). Manufacturer may vary.


Part Number: APRS6707
Shipping Weight: 0.32 pounds
RoHS: compliant
Origin: USA

back to top