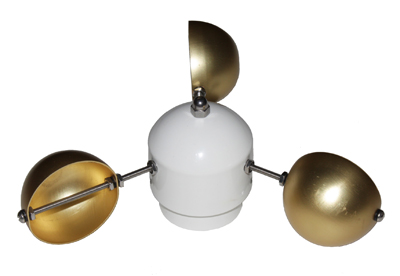 Additional photos
in our photo gallery
.
* PVC pipe (1.5" trade size, 5" long) is no longer included with the anemometer. User can obtain desired length at any hardware store.
APRS World's 6500 Anemometer is a durable and low-cost wind speed sensor. It was originally introduced as a kit by Fascinating Electronics in 1991. APRS World purchased the design in 2007 and has continued to manufacture and sell thousands. The anemometer is built using a high quality ball bearing, stainless steel hardware, UV stable plastic, and durable anodized aluminum hemispherical cups. The cups are weight matched. The anemometer is assembled in the USA with components predominately made in the USA.
The 6500 Anemometer mounts onto 1.5" schedule 40 PVC pipe using a stainless steel set screw. The wiring is protected inside the pipe and connects with a standard RJ-45 connector. This unique mounting arrangement allows for easy mounting in the field, lab, or school yard. The only moving part on the anemometer is a common ball bearing (RA4ZZ EMQ) which is available from any bearing supplier. This bearing typically lasts 3 years in high winds and icing environments, or 10+ years in less extreme areas.
This anemometer is not perfect for all applications. It has a relatively high starting speed (1 m/s or 2 MPH) and a relatively low rated accuracy. We do not recommend it for wind site assessment applications. It is ideal schools, home owners, and mechanically demanding environments. If you need a higher performance anemometer, we recommend you consider our #40R anemometer.
A sample of this anemometer was wind tunnel calibrated in 2006. The anemometer calibration summary is available.
Performance
Accuracy:
Within 0.45 m/s (1 MPH) for the range 5 m/s to 25 m/s (11 MPH to 55 MPH)
Calibration:
Not individually calibrated.
Output Signal
Sensor Type:
Reed switch, dry contact. Frequency proportional to cup rotational speed.
Transfer Function:
m/s = (Hz * 0.786) + 0.948
MPH = (Hz * 1.758) + 2.121
Protection:
Metal Oxide Varistor (MOV) between terminals
Terminals:
Reed switch connected between pins 1 and 4.
Physical Properties
Cup Diameter:
64 mm (2.5 inches)
Rotor Diameter:
254 mm (10 inches)
Weight:
264 grams (9.3 ounces)
Mounting and Wiring
Mounts On:
1.5" PVC pipe
48.5 mm (1.9 inch) actual OD
Mounts Using:
Set screw
Wiring Terminals:
Integrated RJ-45 female connector
back to top

Anemometer, assembled and tested

US Price: $90.00 USD
Please call us at +1-507-454-2727 to place an order.

Part Number: APRS6500
Shipping Weight: 1.13 pounds
RoHS: compliant
Origin: USA


Anemometer, kit

US Price: $70.00 USD
Please call us at +1-507-454-2727 to place an order.

Assembly of the anemometer is not difficult and will take most people less than an hour to complete. The bearings and magnets are pre-epoxied in place and a packet of Loctite 222 is included - no supplies needed! A flat blade screw driver and end wrenches are helpful for building the anemometer.

Note: This is a special order item and may not always be in stock. Order quantities of five or more will cause us to build a new batch of kits, otherwise your order may be delayed until the minimum quantity is met.

An assembly manual is available.


Part Number: APRS6501
Shipping Weight: 2.00 pounds
RoHS: compliant
Origin: USA

Mounting arm bracket for tubular towers

US Price: $60.00 USD
Please call us at +1-507-454-2727 to place an order.

The sensor mounting arm is used to mount our 6500 anemometer off of a tubular tower so it can be in free flowing air. The arm holds the sensor over three feet away from the tower. Anemometer and mounting PVC pipe are not included with the mounting arm. Arm is provided in kit form to save shipping cost.


Part Number: APRS6552
Shipping Weight: 6.25 pounds
RoHS: compliant
Origin: USA


PVC pipe bracket

US Price: $5.00 USD
Please call us at +1-507-454-2727 to place an order.

U-shaped mounting bracket for attaching 1/2" PVC to something. Includes screws, hex wrench and nuts.


Part Number: APRS6560
Shipping Weight: 0.25 pounds
RoHS: compliant
Origin: USA

back to top