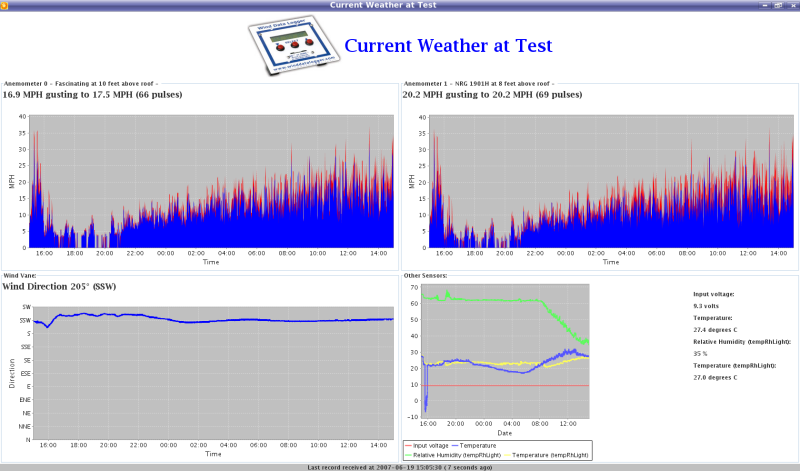 Introduction
Wind2DB is free software for monitoring, logging, and broadcasting data from your Wind Data Logger. The software is written in Java and can run on Windows or Linux computers. Wind2DB is NOT required for normal operation of the Wind Data Logger! It is only useful when you want to view data live from a Wind Data logger.
Data can be received from a serial port or TCP/IP connection. This allows interfacing with a directly connected, wireless, or Internet connected data logger.
Wind2DB was originally named because it took Wind data and sent it to a database. That has been expanded to log data to daily files, a remote HTTP server, or a MySQL database. Support can easily be added for other types of databases or outputs.
Download and Installation
Wind2DB Installation Instructions for Windows are available as a PDF.
The latest version of wind2db is available at www.aprsworld.com/wind2db/distribution/.
Source Code
Wind2DB is licensed as GNU GPL software. A snapshot of the source tree can be found at http://www.aprsworld.com/wind2db/src/. If you are interested in contributing to the software please send your changes to info@aprsworld.com. If there is sufficient interest we will create a public accessible CVS repository. The "distribution" sub-directory contains the compiled files and DLL's normally shipped.