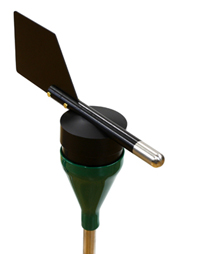 APRS World has a complete line of wind sensors that work with the Wind Data Logger. Our most popular choices are the #40R Anemometer and the Wind Vane that we introduced in 2009. For general use, we offer Fascinating Electronics's anemometer. In addition to our anemometers and wind vane, APRS World's Wind Data Logger supports the NRG 1901 hall effect anemometer and their NRG 2551 calibrated hall effect anemometer along with NRG's 1904 wind vane. If your application requires a different type of wind sensor, the Wind Data Logger can be calibrated to accept any switch closure type of anemometer.
Included with each Wind Data Logger package is a temperature sensor. The sensor utilizes a precision integrated circuit temperature measurement device to accurately measure temperatures between -40°C and 100°C (-40°F to 212°F). For other types of sensors, the Wind Data Logger has four 0-5 volt 10-bit inputs. The 0-5 volt inputs can be used to interface to nearly any type of sensor or transducer available. APRS World, LLC offers a variety of other sensors, including light intensity, temperature and relative humidity, voltage, and current. If you need help locating a source for a particular sensor, please feel free to contact us.
To make your life easier, APRS World, LLC offers accessories for mounting our wind sensors. Most of our customers mount sensors to tubular meteorological or wind generator towers. For that application we have a durable mounting arm for attaching our sensors to any tower that is between 1.5" and 4.5" in diameter.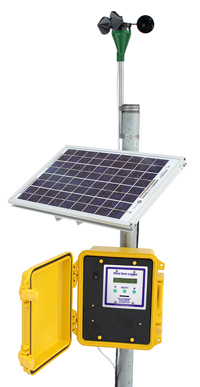 APRS World, LLC has self-contained data loggers that are ready to be deployed. Our self-contained packages feature a Wind Data Logger, a power source, and other accessories in an almost indestructible weatherproof case. We offer a solar powered unit and a battery backed AC powered unit as standard configurations. The solar powered data logger can be placed in the harshest conditions to gather wind data. The AC powered logger has eight 'D' cell batteries, which can run the logger for up to 20 days without AC power. In most configurations, the self-contained data logger comes in a single UPS or FedEx shippable box with everything wired and ready to run. Installations usually take less than an hour. We have self-contained data loggers all over the world; from the grassy pastures of Scotland to the peak of a volcano in Chile.
To get up and running you will need at least: a Wind Data Logger, an SD™ card, a USB SD™ card reader, one or more sensors, sensor cabling, and a power supply or self-contained data logger. For graphing the data you will probably want a spreadsheet package. If you don't have spreadsheet software on your computer, you can download the free OpenOffice.org software or request a free OpenOffice.org CD with your order.
Technical Information - Open source hardware and software!
We believe in open source hardware and software. You can find the Wind Data Logger schematic and other technical material in our manuals and documentation section. Please feel free to contact us if you need further information.